Fireside Dining Room is open from 11:00 am – 10:00 pm & the Lounge is open between 5:00 pm – 12 pm. The Fireside Dining Room & Lounge are popular spots for both locals and our guests.
The two rooms are separated by a huge 27-foot field stone wall which features two magnificent fireplaces, one in each room.  These fireplaces are 27-feet tall and are the largest on the north shore of Lake Superior!  The ambiance is also enhanced by large exposed wooden beams.
The dining room specializes in Canadian cuisine, offering a full-course menu for lunch and dinner.  Ask about our daily features…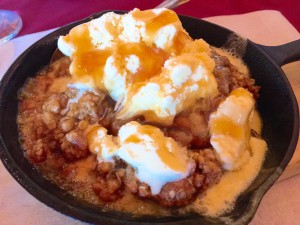 Try our new delicious dessert – baked fresh apple crisp with vanilla ice cream and drizzled with caramel sauce served sizzling in a baby cast iron skillet!
The lounge decor features some beautiful trophy fish to inspire fishing stories about the "one that got away".
If you are relaxing in the lounge, a variety of imported and domestic spirits can be enjoyed with appetizing lounge snacks from the kitchen.
At your request boxed lunches, banquets & meeting services are available.
Fireside Lounge
Fireside Dining Room